Hey guys,
I guess this is both a "welcome" thread as well as a build thread. I've had my RX-7 since I was 17 (22 now) and last winter converted it from an auto/N/A Rotary to a 6 speed/N/A LS1. The car made just over 400RWHP. Well, my never ending love for boost has started me on a new project for this winter.
Some background on me... I'm a 22 year old MIS major at UMD. I'm currently a Junior and am also working full time at one of the top managed IT service providers in the country providing desktop, server, and network support. My dad owns a body shop up here but I never really loved cars until a couple of years ago. I've had a few Subarus (a track ready 2.5RS, stage 2 Legacy GT Limiteds, etc.) and currently drive a "Mopar Stage 3" '05 SRT-4 as my daily. It makes about 340WHP. It's fun, reliable, and quick. Despite being a Neon I love the shit out of it.
I've had 2 RX-7s. The red GXL you see below and a 1987 Turbo II that I sold a long time ago. I'd like to say that I've got nothing at all against the Rotary. Mine ran great until pulled. For what I want out of a car, though, an LSx really fits what I require. And yes, it still handles awesome, even with the V8. I actually dropped weight when doing the swap since I don't have AC, power steering, or heat
I will never sell my GXL. I will keep it until the day I die.
The goals with this car are "simple". It's going to be a 600RWHP, 9 second daily driver that I can take my girlfriend out to dinner in, listen to some tunes, go grocery shopping, and whoop some Corvette ass. It will be tuned for E85.
Motor:
2002 LM7 (5.3L, iron block, aluminum heads)
ARP rod bolts
ARP head bolts
LS6 cam
Comp Cams 26918 valve springs
Comp Cams 7.400" Hi-Tech pushrods
LS2 timing chain
Melling "296" high flow oil pump
LS7 Lifters
Lokar throttle cable
Lokar throttle cable bracket
Lokar engine dipstick
LS6 Intake manifold
Ported stock throttle body
Fuel:
Injector Dynamics ID1000 (1000cc) Fuel Injectors
Aeromotive 340 "Stealth" fuel pump
Aeromotive LS1 fuel rails
-6 stainless feed and return lines
Corvette Fuel Pressure Regulator
Turbo setup:
Turbonetics TC76 (.96 A/R, F1 turbine wheel)
Turbosmart 48mm Pro Gate external wastegate
Turbosmart 52mm Race Port BOV
SSAutoChrome 24x12x13 FMIC
2000* Jet-Hot On All Hot Side Components
Cooling:
26"x19" Speedway Tru-Cool GM Aluminum Radiator
Spal 16" Electric Fan
Custom Lower Radiator Mounts and Fan Shroud
Drivetrain:
ATI Racing Transmissions PowerGlide w/ undecided 3600 stall converter
B&M Ratchet Shifter
Granny's Speed Shop motor mounts
Granny's Speed Shop Transmission Cross Member
Energy Suspensions Polyurethane Transmission Mount
Tydo Race Cars prepped Granny's torque arm setup
Strange spool
Strange axles
LPW Extreme 8.8 rear cover with torsion bolts
Extreme Duty watts linkage and brackets
Extreme Duty lower 3x reinforced control arms with heavy duty heim joints
Wheels/Tires/Suspension/Brakes:
Front: Enkei RPF1 17x8.5 with Nitto NT05 (235/40/17)
Rear: Enkei RPF1 17x10 with Nitto NT05R Drag Radials (275/40/17)
Aerospace Components rear disc brake kit
Moser 5/8 wheel studs
BC Racing front coilovers
Strange single adjustable rear coilovers
Hawk HPS Pads
Mazdatrix Stainless Steel Brake Lines
AMSOIL Series 600 DOT4 Brake Fluid
Gauges:
Autometer 3 3/8th Speedometer
Autometer 3 3/8th Tachometer
Autometer 2 1/16th Voltage Gauge
Autometer 2 1/16th Fuel Level Gauge
Autometer 2 1/16th Oil Pressure Gauge
Autometer 2 1/16th Oil Temperature Gauge
Autometer 2 1/16th Water Temperature Gauge
AEM Huego Digital Wideband O2 Gauge
AEM 35PSI Digital Boost Gauge
Interior/Miscellaneous:
2002 Dodge Viper GTS Seats
Auto Power 4 Point Race Roll Bar
Acura TSX HID retrofits (OEM housings, 25w 4300k bulbs)
CorkSport rear strut tower bar
CorkSport Front Lip Spoiler
Shine Auto Project Roof Spoiler
Here is the car as it was with the LS1 in it: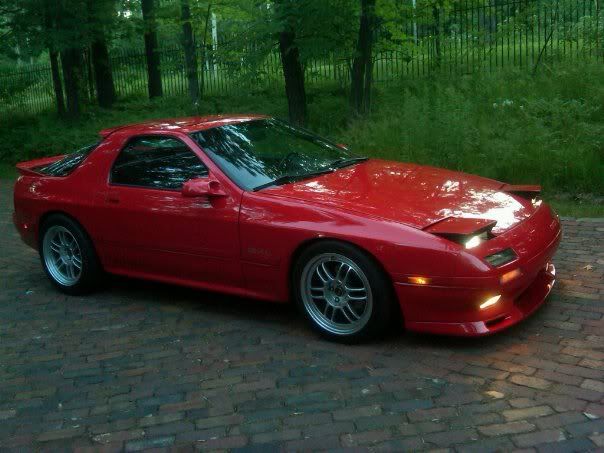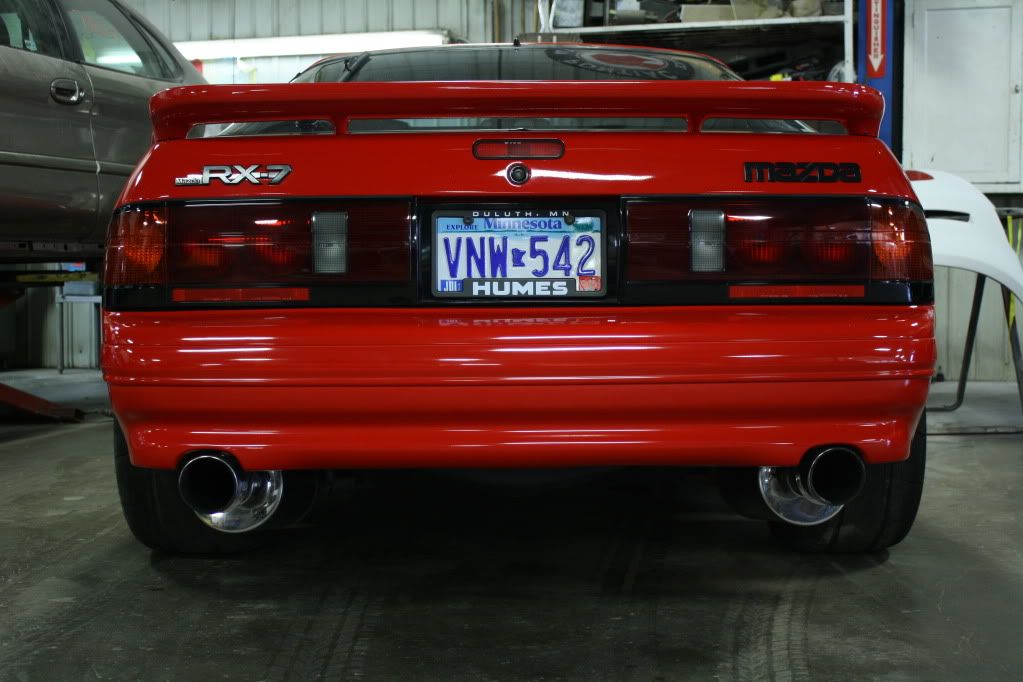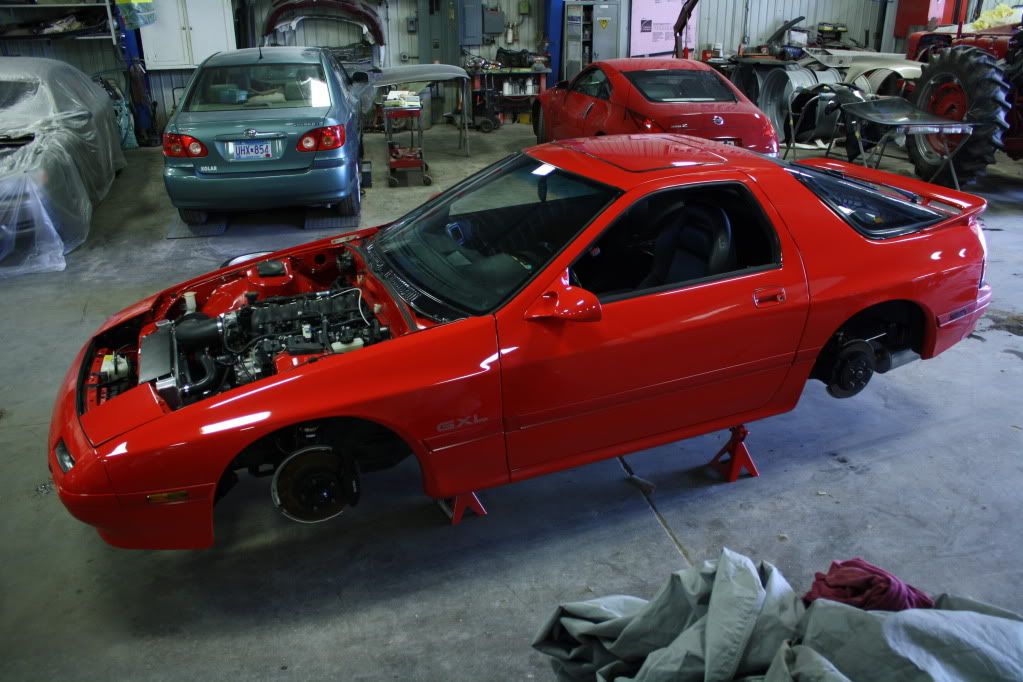 Here's the turbo kit:
Intake cleaned and painted:
Wideband/boost gauges:
Intercooler installed: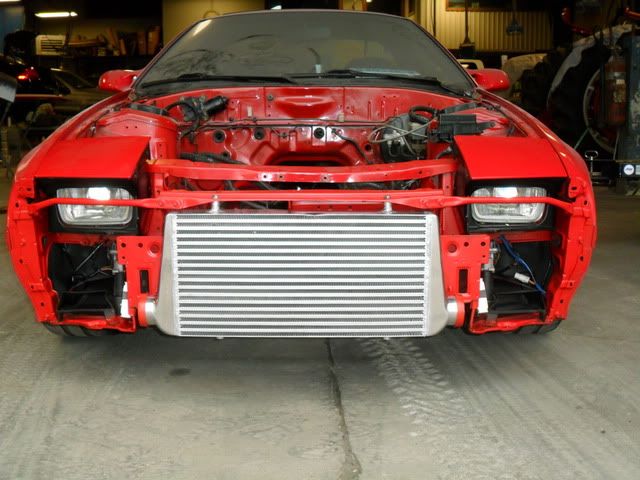 The top is hard mounted: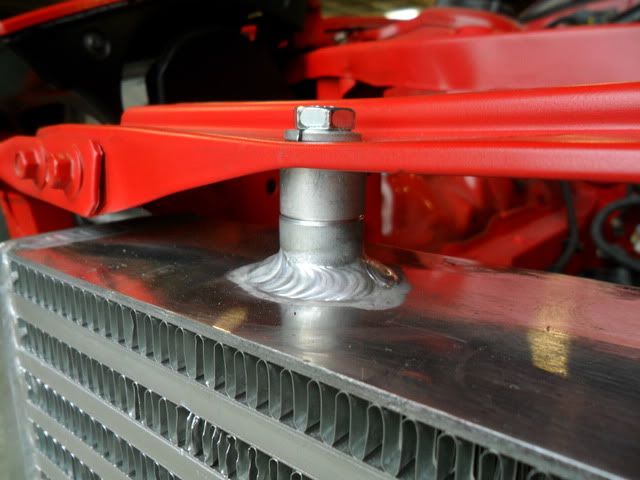 I wanted some play in the IC, so I used these cut down rubber stops to help protect what little movement it may have (the IC pipes will hold it even more securely):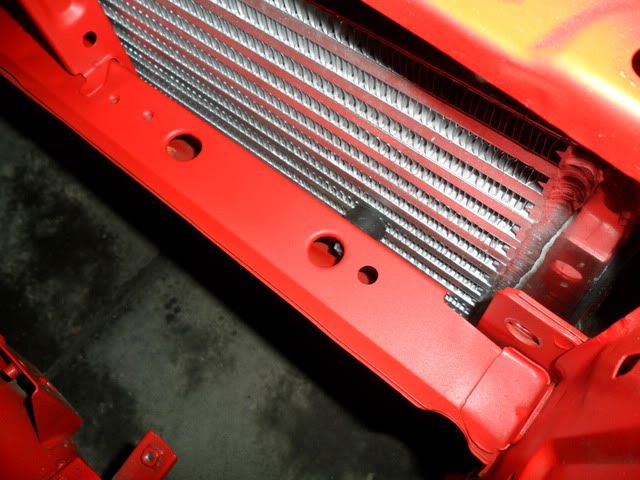 HID ballasts mounted way out of the way (don't mine the small amount of over spray
):
And a view from the back:
AutoPower 4 point installed: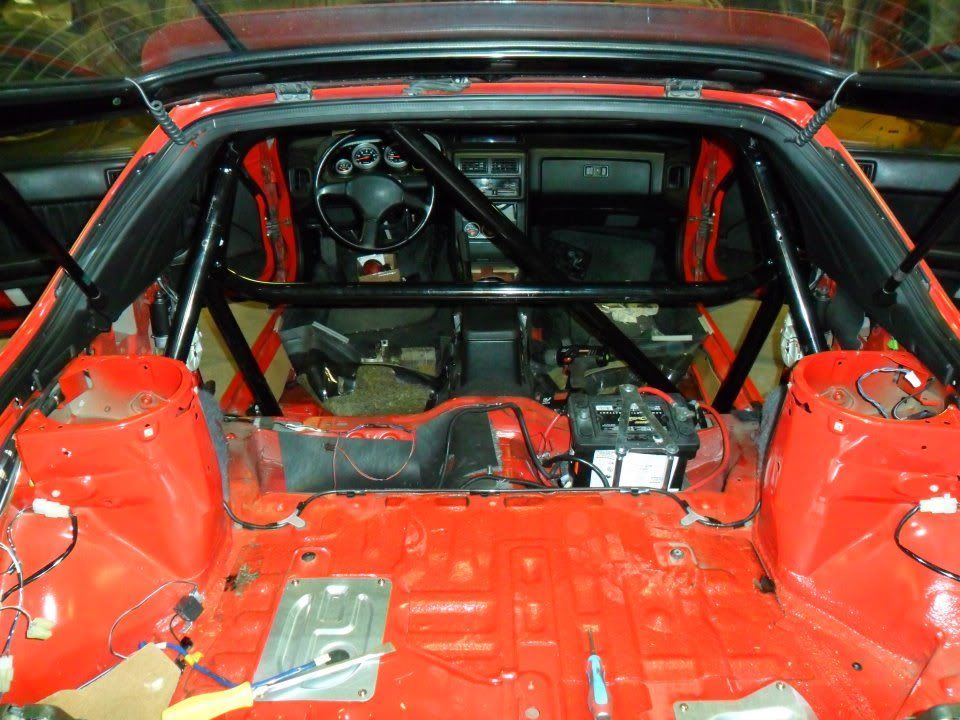 The parts car I'm going to get:
It's not the prettiest thing to look at, but you have to look past that. It's in Cincinnati and I'll be going down to get it the first week of November.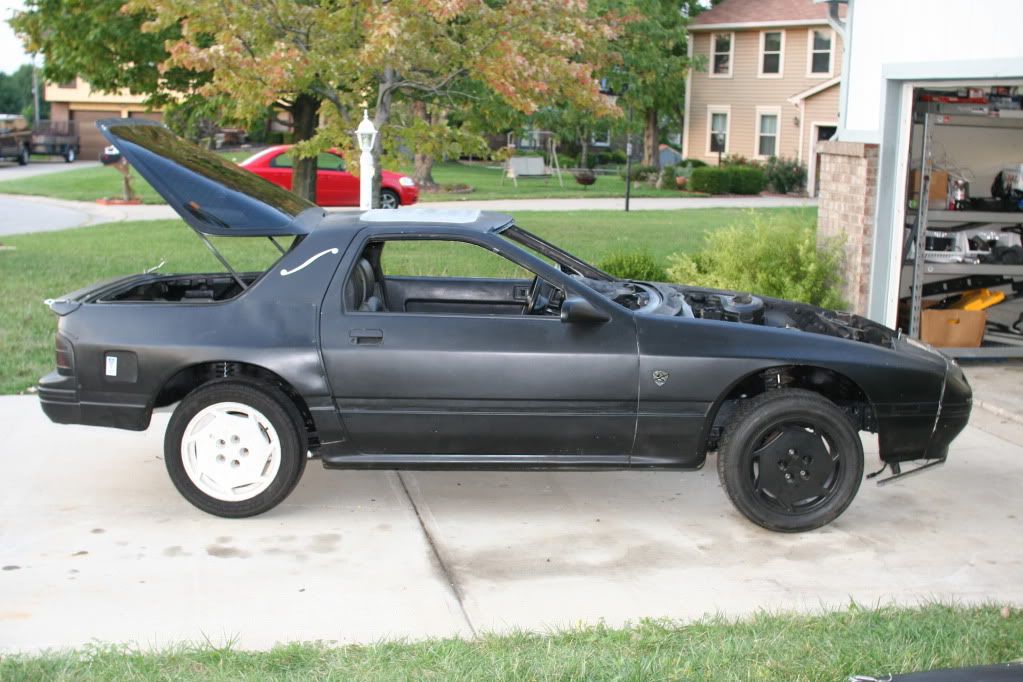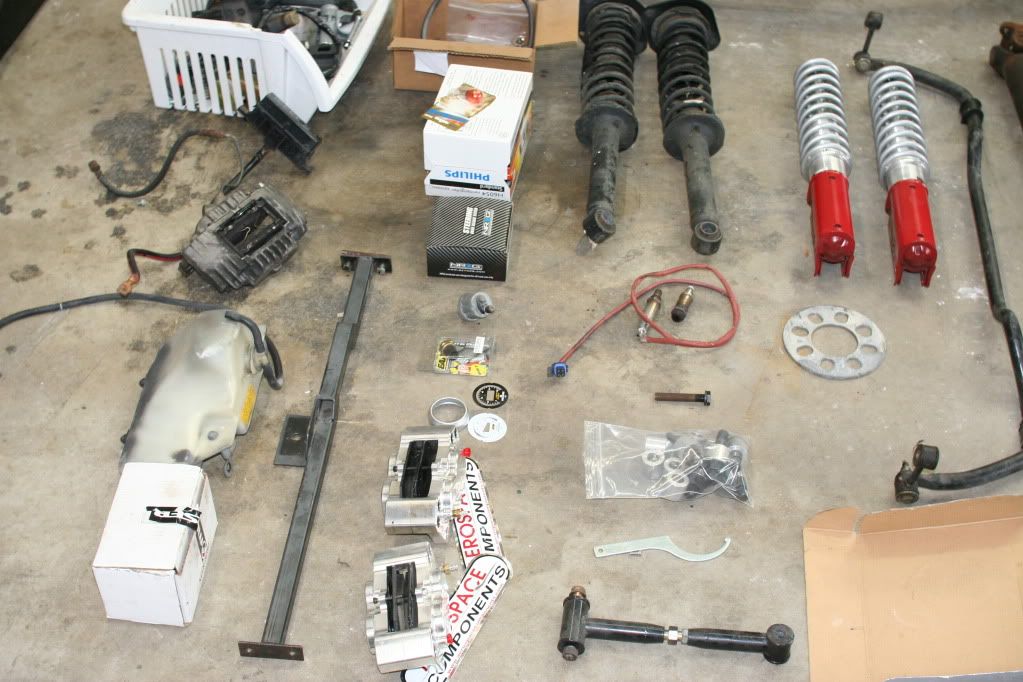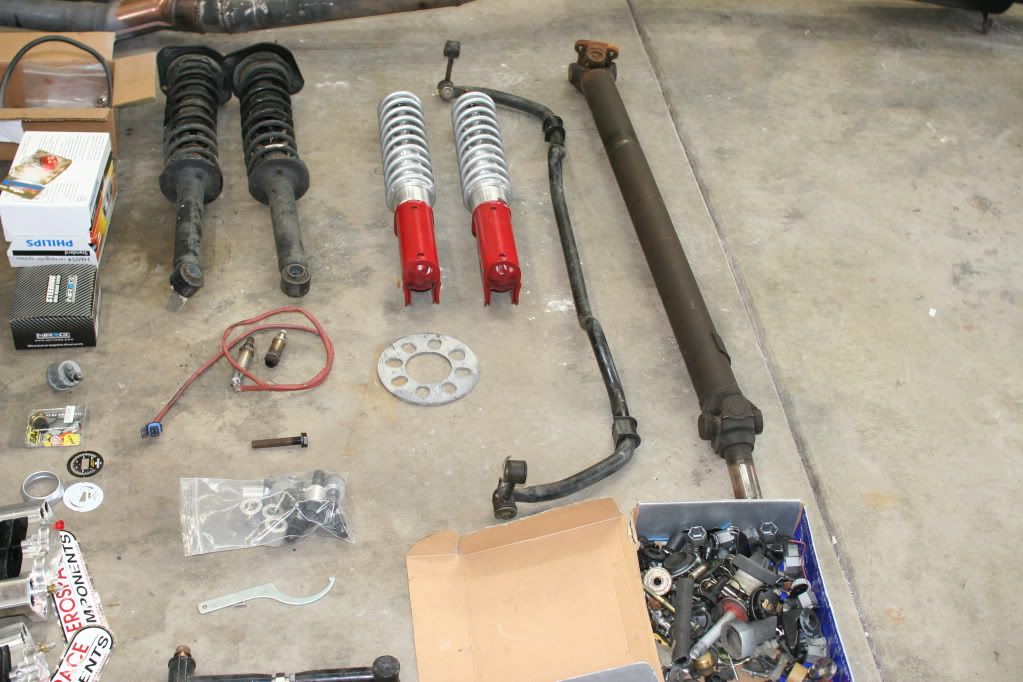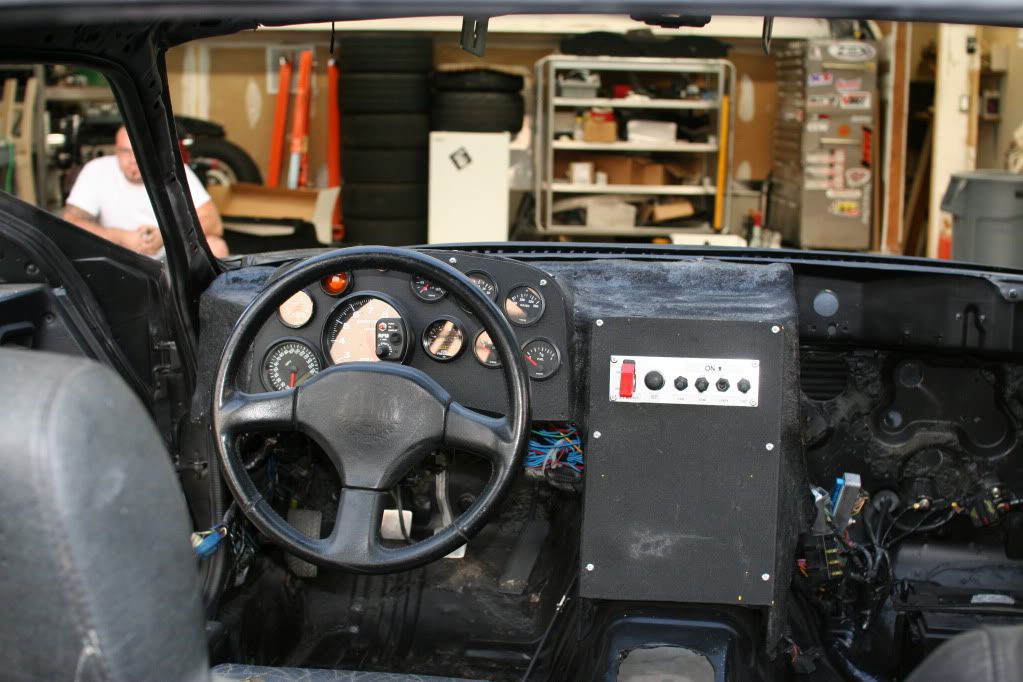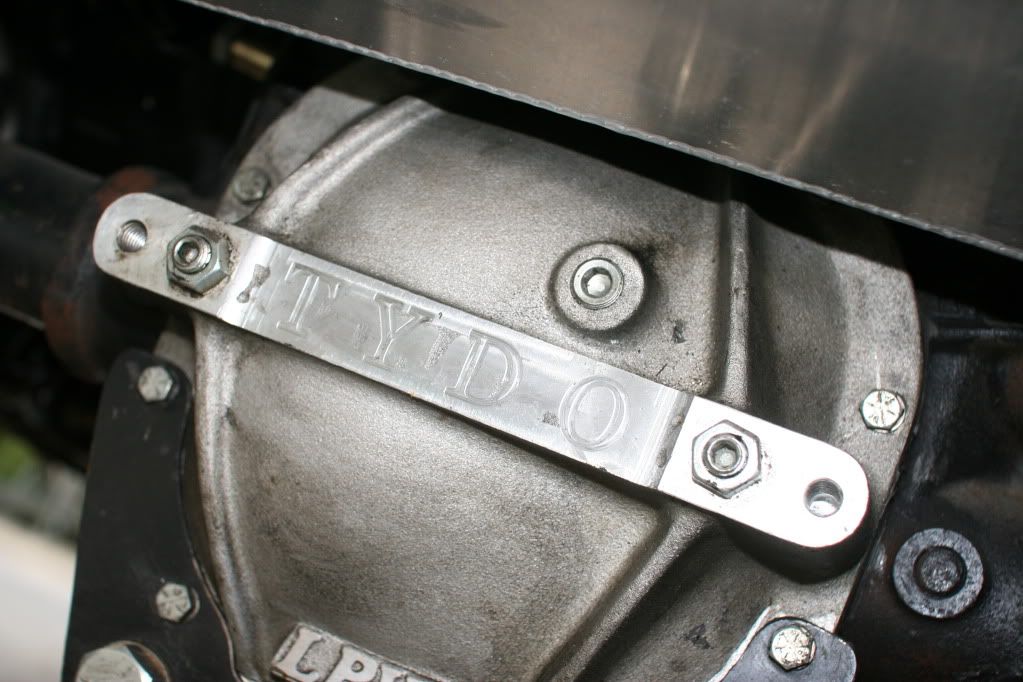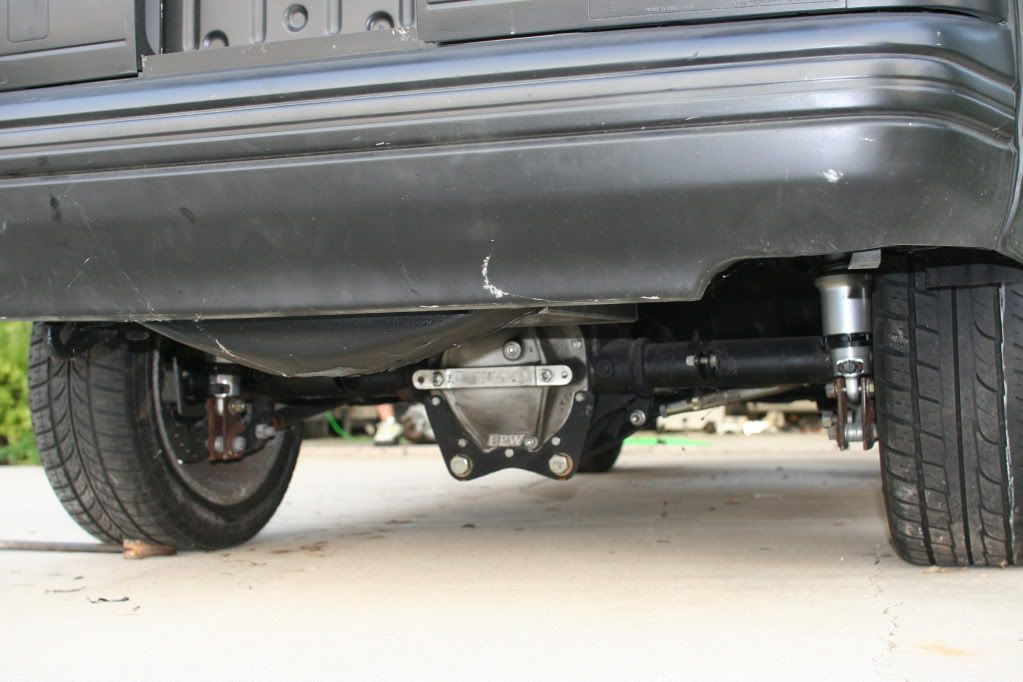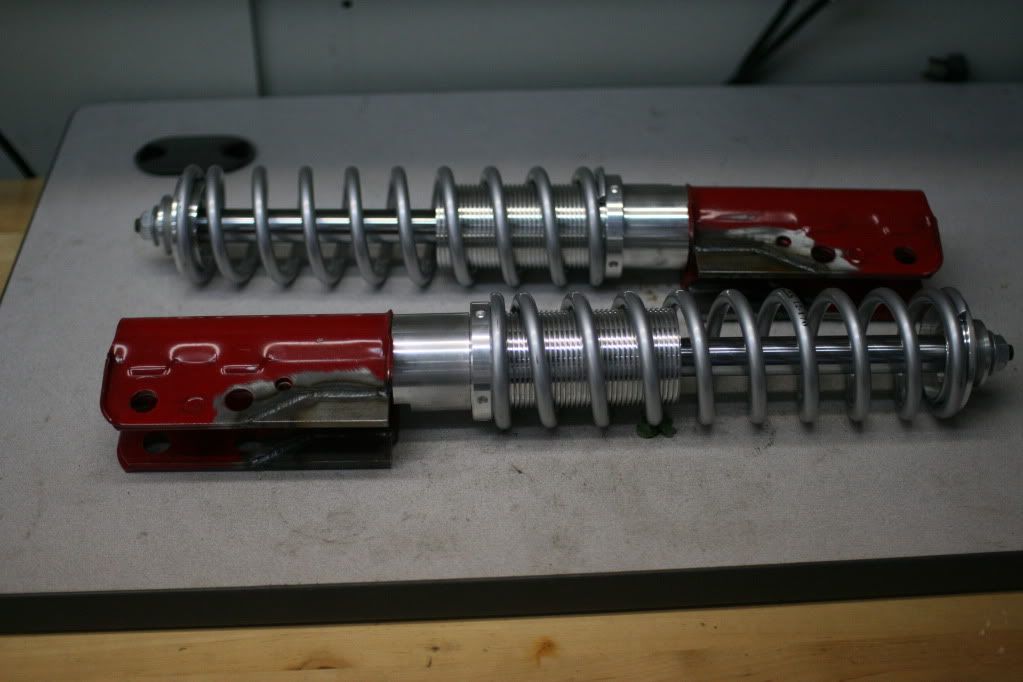 And lastly here is a friends' car running in the quarter. His setup is very similar to mine, although he has a bigger motor and more efficient turbo. My car will not run this fast.
http://www.youtube.com/watch?v=vLW_zpMages