Hi all,
I have decided to pick up either a '13 Focus ST or WRX. As such, I will need to sell my current daily driver. Below is pertinent information about the car.
Seller name: David Humes
Seller contact information 218-343-5008(call/text) or email at
davidphumes@gmail.com
Location: Duluth, MN
Asking price: $5,000 firm
Year, Make, and Model: 1990 Mazda Miata
Color: Mariner Blue
Miles: 103,xxx (this is my daily driver right now so it will go up)
Title: Clean, in hand, no liens
Condition: Excellent. Any issues are noted below.
Engine: 1.6L 4-cylinder
Transmission: 5 speed manual transmission
Features: Base model with AC (converted to R134 in May 2014) and power steering
Other: New paint in last few years
Any rust? No rust or any signs of it (I've checked all problem areas - there's nothing)
Modifications:
- Matching hardtop
- Flyin' Miata stage 2 coilovers
- NB strut top hats
- Flyin' Miata front & rear sway bars
- 949 Racing front & rear subframe braces
- 949 Racing braided clutch line
- Truck Lite 7" LED headlights
- Rota Grid-V 15x7" +20mm wheels
- 205/50/15 Falken Azenis 615k (7k miles)
- Roadstersport v1 cat-back exhaust
- Hard Dog roll bar
- Minor wire tuck
- R package replica front lip
- Shorty antenna
- Shaved rear bumper
- Polyurethane exhaust hangers
- Reverse lights and license plate lights converted to pure white LED
Recent maintenance (most at 101k):
- Timing belt
- Cam seals
- Water pump
- Tensioner
- Crank seal
- Valve cover gasket
- Thermostat
- Accessory belts
- Radiator flush
- Spark plugs
- Pads and rotors on all 4 corners
- New PCV valve and CAS oring
- Large and small diameter shift boots (they were ripped - very common)
- New Redline MTL transmission/turret fluid
- New Redline 75-90 rear differential fluid
- New RSpeed radio surround
I have owned this car since September of 2013 and it has treated me very well. For the most part, I purchased the car as is but it needed just a little bit of love. Mainly, I performed all of the maintenance that needed to be performed. The previous owners took very good care of the car - I just took it to the next level. The paint is in very good condition and the body is straight - no signs of body work and only a very minor dings. The underside of the car looks the same as the outside - that is to say, no rust anywhere.
Below I will list what I consider the "cons" of the car. Keep in mind that I am VERY particular about my cars and these are the things I know of that detract from it being "perfect".
- There are a few chips in the paint which have been touched up.
- Soft top is not installed in car, though I do have it. I think it may have rips in it but I've never really looked. I don't like soft tops.
- No bottom plastic tray under engine bay (makes maintenance easier).
- Wire tuck removed windshield washer fluid reservoir. I bought a used one but still need the bracket. This is included with the sale. Wiring and tubing is still present. I never missed it.
- Oil pan gasket has been leaking since I purchased the car last October (previous owner mentioned it at the last minute when buying). I just monitor oil level and notice it "leaks" about a half quart every 1,000 miles. It does NOT drip onto the ground - the only way to tell is by looking at it and you can also sometimes smell it depending on how you've been driving. Honestly, it doesn't really bother me too much but if I was keepign the car long term I'd pull the motor out and replace all of the other seals. You could DEFINITELY drive the car for a looong time with it as is.
- Car sometimes smokes when started in the morning for about 10 seconds. Sometimes it doesn't and never when warmed up. I assume the valve guides are worn which isn't surprising given the age. It never smokes any other time.
- No radio installed, but all wiring is there. I've been searching for an OEM radio with little luck.
- Side markers on lower bumper work intermittently. I checked it out and the wiring appears to be dry rotted at the removable plug in the housing. This would be easily fixed if you could find a Miata in a scrap yard and rob the plug off.
- Paint on the hard top is in very good shape just like the rest of the car, but some edges have a small amount of primer showing. I don't think anyone but me notices this.
- Speedometer cable needs to be replaced as it is rubbing (well documented Miata "thing"). I will be replacing this in the next few weeks if the car doesn't sell by then. Speedometer still works, you can just hear it sometimes and the needle occasionally wobbles.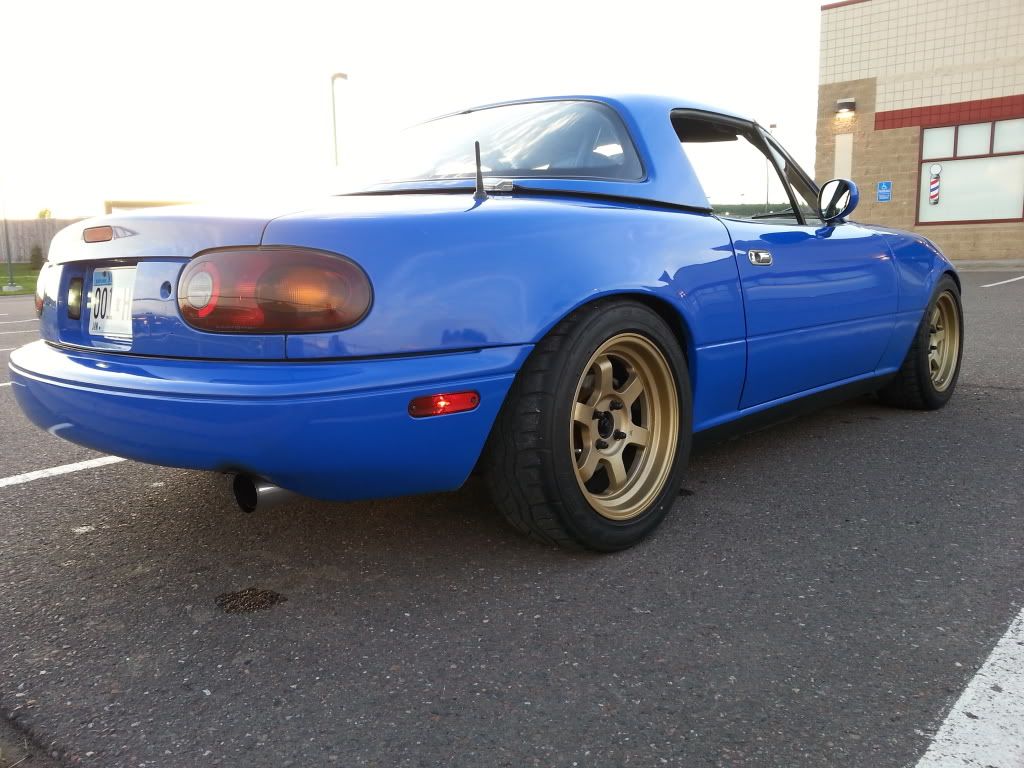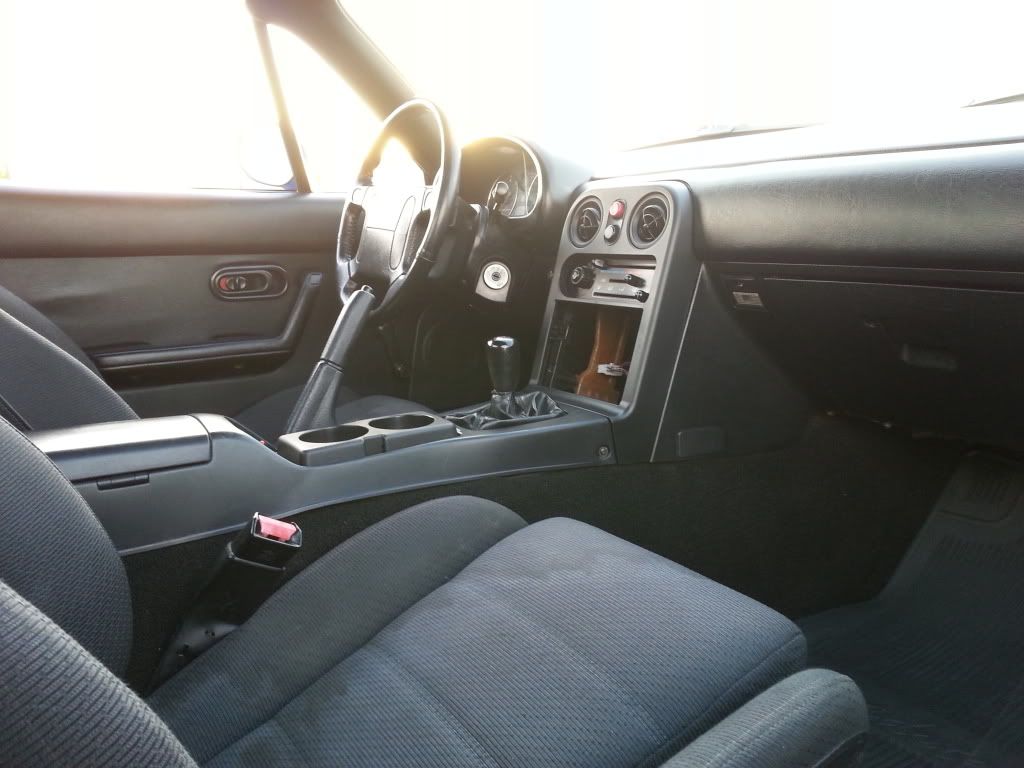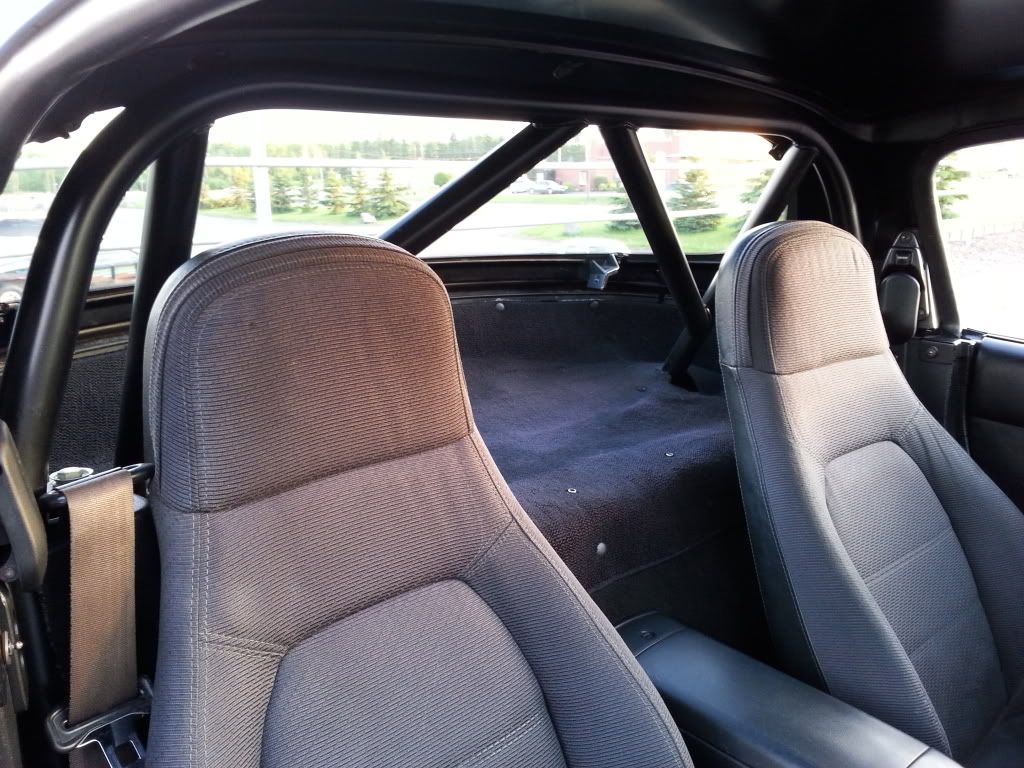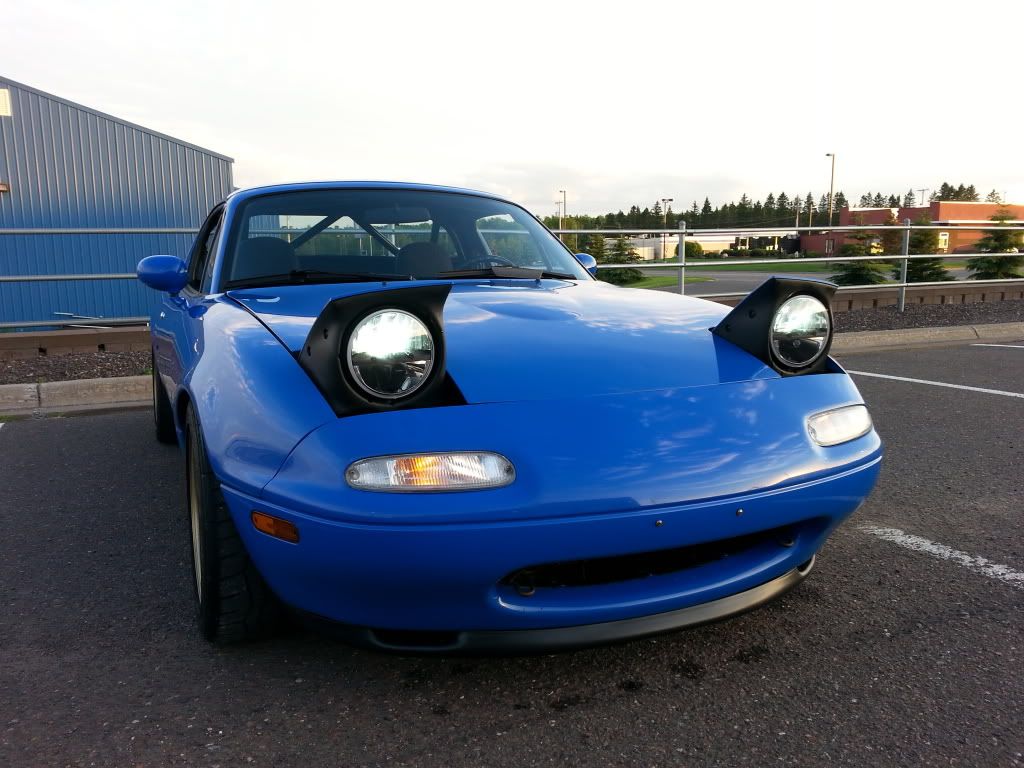 Last edited: