Project Little Cousin.
91' NA White Miata - B package - No Accidents - No Rust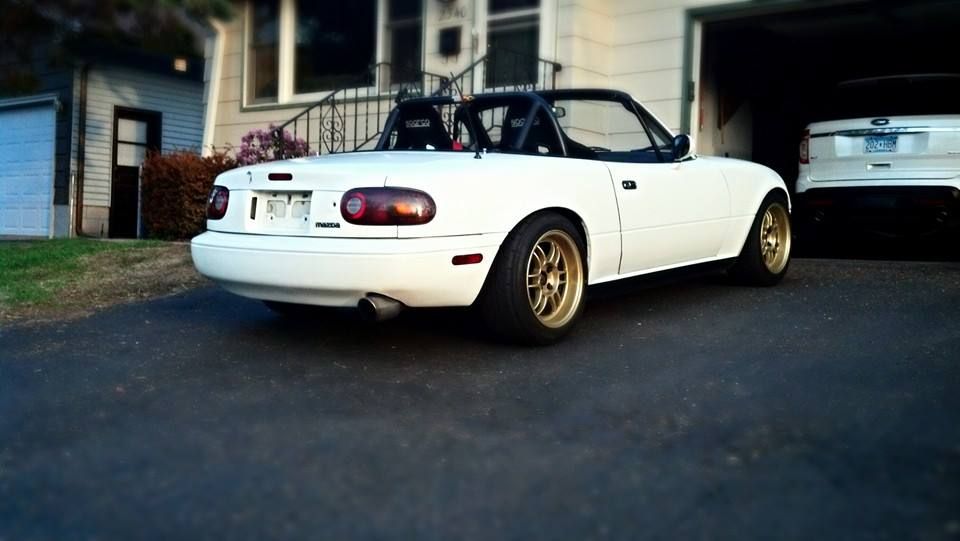 I am going to do my best to get this build thread up to date. Let me start off with an intro. I come from the land of Subarus. I picked up a 09' WRX hatch new and owned it up until last summer. The WRX had a lot of money into it and lots of goodies to show... built engine, suspension, fuel system, brakes, drivetrain... I had about 50% of the car's new value in parts alone added to it when I sold it. It was a great car but I do not miss it. I sold it for a good reason. To pick up this Miata and start a better project. I was sick of seeing my project car get destroyed by Minnesota winters and daily driving. I wanted something that I could wrench on for 15+ years. At the time I also picked up a modded Subaru LGT, but that ended up being a PITA and too much work for a DD so I sold it off last fall. Now I am down to 1 project car and a DD that I don't have to wrench on.
Here is the info for the car when I picked her up last May.
1991 Miata B Package Clean title, no accidents, no rust
Engine:
Stock - Purchased with car (5/18/2014)
Koyo 55mm radiator - Purchased with car (5/18/2014)
Transmission:
Mazdaspeed 6 speed transmission 30k miles - Purchased with car (5/18/2014)
Stainless steel clutch lines - Purchased with car (5/18/2014)
VlSD rear diff - Purchased with car (5/18/2014)
Suspension:
Tein Street advance coil overs with NB Tophats - Purchased with car (5/18/2014)
Racing beat hollow front sway bar - Purchased with car (5/18/2014)
Energy Suspension Master Bushing kit Rear - Purchased with car (5/18/2014)
Energy Suspension Master Bushing kit Rear Diff (Not Installed Yet) - Purchased with car (5/18/2014)
Energy Suspension Master Bushing kit Front (Not Installed Yet) - Purchased with car (5/18/2014)
Brakes:
Stainless steel brake lines - Purchased with car (5/18/2014)
Hawk hp plus front pads - Purchased with car (5/18/2014)
DTC 30 rears - Purchased with car (5/18/2014)
Exhaust:
Jackson racing cat-back exhaust - Purchased with car (5/18/2014)
Exterior:
Harddog roll bar - Purchased with car (5/18/2014)
Konig wide open 15x8 wheels - Purchased with car (5/18/2014)
Dunlop Star spec 205-50-15 (Currently Mounted) - Purchased with car (5/18/2014)
Nitto NT01 tires 225-45-15 (Track Only) - Purchased with car (5/18/2014)
Miata OEM R package front lip - Purchased with car (5/18/2014)
Miata OEM R package front lip painted white - (7/21/2014)
Driver's Side Mirror replaced/fixed - (6/18/2014)
Interior:
Sparco pro2000 seats - Purchased with car (5/18/2014)
Drivers Seat 6 Point Harness - Purchased with car (5/18/2014)
Water Temp Gauge - Purchased with car (5/18/2014)
Other:
Removed AC
Removed Power steering
Removed Cruise control